Carl Froch has warned George Groves that he's out of his depth and will be knocked out when they meet in the ring on November 23.
Froch, 36, will put his WBA and IBF super middleweight titles on the line against the undefeated Londoner at a sold-out Phones 4u Arena in Manchester.
The Cobra, who has won 31 of his 33 fights, exchanged very few words with his 25-year-old rival at Tuesday's press conference to promote the Sky Box Office showdown.
Watch Boxing live Get Here >>>
http://tinyurl.com/oxqwj9m
Groves is out of his depth
"I just told him the truth, that's he's out of his depth and he is getting beat on the 23rd of November," Froch told
Sky Sports News
.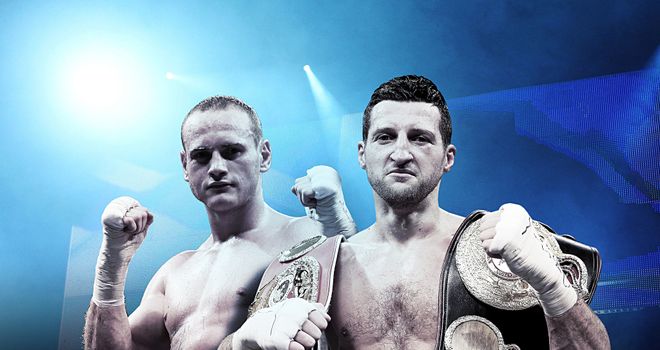 "He's a trained fighter, he's unbeaten and he's got quite a high knockout ratio against a level of opposition but boxing, unfortunately for him, is all about levels and I'm in a totally different league than George Groves.
"He's not mixed at this level in his whole career, he's tried to mix at this level in sparring and been found out a few times.
"I put him over myself in sparring, and to be honest, I was pulling my punches when I hit him, I sort of him with half a shot as I knew it was going to land, so I pulled it and it still decked him and he's been knocked out a few times.
"I need to do business and do in style. It's not just about winning, it's about how I win."
Froch on Groves
"When the 10oz gloves on fight night start landing on his chin, there's only going to be one result that's going to be George Groves knocked out on the floor. Simple as that."
Froch, however, insists he is not taking the threat of Groves, who has 19 straight victories with 15 by knockout, lightly.
"This fight is potentially a massive banana skin for me, to lose to somebody like George Groves could be curtains on my career and I don't want to turn it in yet.
"I need to do business and do in style. It's not just about winning, it's about how I win. I cannot see this fight going the distance.
"At some stage George Groves is going to have to stand in front of me and fight for survival.